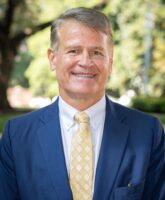 President & CEO

Michael S. Fox joined Piedmont Triad Partnership (PTP) as President & CEO in September 2021.
In this role, he leads regional efforts to promote the strengths and opportunities of the Carolina
Core, partnering with economic development professionals and stakeholders, to build on
strategies to recruit new businesses and jobs to the region.
In addition to leading PTP, Fox is a partner with Tuggle Duggins P.A., a private law practice in
Greensboro, where he specializes in business and real estate disputes, government affairs and
zoning and land use. With more than 30 years of legal experience, Fox also has extensive
experience in public service and economic development. He has served for more than eight
years on the N.C. Board of Transportation and as Chairman of the Board since 2017. He also
serves as a member of the Board of Directors for the N.C. Railroad Company, the Piedmont
Authority for Regional Transportation, as well as numerous regional transportation planning
organizations in the Triad. Fox was also a member of the City of Greensboro Planning Board
from 2003-2009, in addition to leadership roles in many other community and civic
organizations.
A native of Boone, NC, Mike lived and worked in Washington DC, Atlanta, and Raleigh before
settling in Greensboro in 1996. He had an early career in public service as an aide to a US
Congressman, a local prosecutor in Atlanta and as a Special Prosecutor in North Carolina.